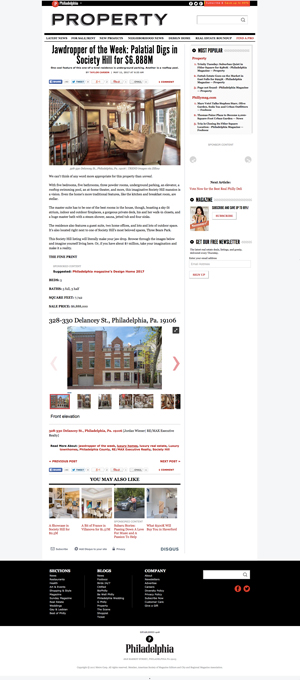 One cool feature of this one-of-a-kind residence is underground parking. Another is a rooftop pool.
By Taylor Carson | May 11, 2017 at 6:33 am
Read more at http://www.phillymag.com/property/2017/05/11/jawdropper-of-the-week-palatial-digs-in-society-hill-for-6-888m/#6f5iAUmOdSQ0Zo9T.99
328-330 Delancey St., Philadelphia, Pa. 19106 | TREND images via Zillow
We can't think of any word more appropriate for this property than unreal.
With five bedrooms, five bathrooms, three powder rooms, underground parking, an elevator, a rooftop swimming pool, an at-home theater, and more, this imaginative Society Hill mansion is a vision. Even the home's more traditional features, like the kitchen and breakfast room, are stellar.
The master suite has to be one of the best rooms in the house, though, boasting a sky-lit atrium, indoor and outdoor fireplaces, a gorgeous private deck, his and her walk-in closets, and a huge master bath with a steam shower, sauna, jetted tub and four sinks.
The residence also features a guest suite, two home offices, and lots and lots of outdoor space. It's also located right next to one of Society Hill's most beloved spaces, Three Bears Park.
This Society Hill listing will literally make your jaw drop. Browse through the images below and imagine yourself living here. Or, if you have about $7 million, take your imagination and make it a reality.
Read more at http://www.phillymag.com/property/2017/05/11/jawdropper-of-the-week-palatial-digs-in-society-hill-for-6-888m/#6f5iAUmOdSQ0Zo9T.99